Y'all, I have been busier than a one-legged butt kicker. So, I have a new book out with Dreamspinner Press!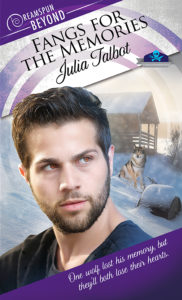 A Dead and Breakfast Novel
One wolf lost his memory, but they'll both lose their hearts. Bitten werewolf Tom owes the folks at the Dead and Breakfast big for saving his life. So when they ask for help with a rogue wolf on the premises, he's happy to do his part…. Though he isn't quite prepared for what he'll find. Werewolf Nathan lost everything to a sadistic kidnapper—his freedom, his memories, and maybe even his ability to be human. But as soon as he meets Tom, he knows he might be able to reclaim his life. And even a turned wolf like Tom feels the mating call. The trouble is, Tom isn't the only one who wants Nathan, and they'll need help from all their supernatural friends at the D & B to defeat a powerful enemy and keep their love—and themselves—alive.
Buy it at Amazon!
Or at Dreamspinner Press. I make more there 😉
Coming soon from Dreamspinner!
Find it here!