Stories that leave a mark…
While you can find Mineva here, she now has her own website at www. minervahowe.com
Minerva Howe is also Julia Talbot. She's my pen name for exploring my Alpha and Omega stories, my more obvious BDSM stories, and my upcoming MPreg stories. She's all about wolves and dragons, bears and aliens. She likes hurt/comfort, Daddies and boys, Doms and subs, and more. She's way more adventurous than Julia, but she's still me! Check out here Facebook page and her Instagram!
Minerva's Newest release!
Thunder Moon December 29, 2020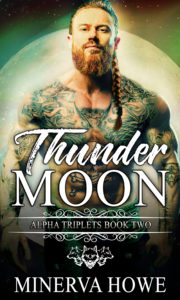 Dragon Scholar November 17, 2020
Hunter's Moon
When a rogue wolf brings a sweet omega to Derek Lowell's tattoo shop, he takes one deep breath and knows he can't let Ethan leave with the jerk. This omega is meant to be his, and Derek will do whatever he needs to do to save him.
Ethan is a Worthless One, an omega sold to a bad pack as a child, but he has a core of steel under his vulnerable exterior. When Derek offers him a safe haven, Ethan knows he has to try to overcome his past and grab his new Alpha with both hands. Cam Derek keep Ethan safe and teach him how to accept all the gifts Derek has to give him?
This is a non-mpreg Alpha and Omega shifter story where an Alpha triplet finds love, a sweet, loving Omega, and a lot of hot loving!
Click here to find Hunter's Moon on Amazon
Coming Soon from Minerva
Wolf Moon – Feb 2021
Dragon Treasure – April 2021
Pens and Needles – May 2021 (Secret Springs book 1)
Minerva's Books